RAM SHRIRAM
A technology industry insider for over 25 years, Ram has worked in companies large and small from Netscape to Amazon. He is a Board Member for Google and started Sherpalo Venture Capital in 2000 with the goal of applying his wealth of operating and company building experience to promising early stage ventures.
Ram's knowledge of and advice on issues ranging from raising venture capital, key management hiring, making the right product choices and defining and adapting the business model to changing market conditions can help you to secure early customer wins, build momentum from a standing start, and generate international growth. Ram also sits on the board of Naukri.com, a leading Indian job-seeker website.
"Magic Bus with its passionate volunteers and mentors have changed the trajectory and lives of countless young children growing up in poverty by providing them with livelihoods and a sense of purpose."
AMIT BHANDARI
A serial entrepreneur, Amit has been building start-ups for almost 20 years. His most substantial successes have been in the fuel commodity supply sector, with the establishment of BioUrja Trading, LLC, and LogiBo, LLC, along with grains commodities via West Plains, LLC.
Overall, the BioUrja Group has grown in just seven years to be a leading fuel supplier globally, achieving annual revenues over $5 billion and supplying over 1 billion gallons of fuel to its customers. For these achievements, Amit was recognized as a finalist in Ernst & Young's Entrepreneur of the Year Awards in 2013.
Amit is also an active philanthropist. He has been active in supporting the Houston community as well as charitable organizations across the United States, with a particular focus on education and children's causes.
"When I visited a Magic Bus sporting activity in the slums of Mumbai with my wife and kids, we were struck by the tremendous joy and hope that the organization brings to underprivileged children. Words just can't capture what they do – it truly is magical."
VIK UPPAL
Vik Uppal serves as Chief Executive Officer and Chief Investment Officer of Mavik Capital Management, for which he is responsible for all investment, risk, and business management functions across the firm and its investment vehicles.
Prior to Mavik, Vik served as a Partner and Head of Real Estate at Axar Capital Management, an investment manager focused on value-oriented and opportunistic investments in a wide range of industries. He subsequently joined Mavik in 2018 as Chief Investment Officer after leading the acquisition of the platform.
Previously, Vik served as Co-Head of North American Real Estate Investments at Mount Kellett Capital Management, a private investment firm with $8 billion in peak AUM and a focus on value-oriented, special situations, and opportunistic investments. Vik began his career as a real estate operator and developer focused on acquiring distressed and underperforming assets.
Vik is also an active philanthropist. He is a member of the President's Council of The Real Estate Roundtable, a non-profit public policy advocate for real estate, where he sits on the equity, diversity and inclusion committee. He also serves on the board of Magic Bus, a non-profit dedicated to improving the lives of children in India.
Vik holds a BS from the University of St. Thomas and an MS from Columbia University.
MATTHEW SPACIE
Formerly Chief Operating Officer of Cox and Kings and Founder of Cleartrip.com, Matthew comes with extensive experience in senior positions within the corporate sector and an intuitive understanding of the needs of the development sector.
In 1999, Matthew established Magic Bus, and he has grown the organization from volunteers conducting informal rugby sessions and one-off outdoor camps for disadvantaged children, into a premier organization working in the area of mentoring less privileged children from childhood to livelihood. Matthew has been elected an Ashoka Fellow, a TED Fellow and more recently an ACSEP Asia Centre for Social Entrepreneurship and Philanthropy (ACSEP) Fellow. In 2007, he was awarded an MBE for services to children in the Commonwealth.
KAPIL MATHUR
Kapil Mathur is Managing Partner of The Math Group at Morgan Stanley and leads a team overseeing over $1 billion for leading families throughout the United States.  Mr. Mathur is a Senior Portfolio Management Director, Branch Manager, and Co-Chair of the Firm's 2,000+ member Multicultural Employee Networking Group. He is perennially recognized by Forbes on their Best In State Financial Advisor List.
 
Mr. Mathur has extensive experience advising CEOs as an investor, investment banker, and consultant.   He previously was with McKinsey & Company, Dell Corporate Strategy, and MSD Capital.  Mr. Mathur holds a BBA in Business Honors and Finance from the University of Texas at Austin and an MBA from Harvard Business School.
 
In addition to serving as President of the Magic Bus Houston Board, Mr. Mathur is a member of the Board of Directors of the Cullinan Park Conservancy and is a Past President of the Harvard Business School Club of Houston.  
 
Mr. Mathur is a proud Canadian by birth and lives in Sugar Land, Texas, with his wife, Dr. Sheela Parekh, and their children Shan and Karina.  He enjoys soccer, travel, wine tasting, and philanthropy.
ASH SOMANI
Ashutosh ("Ash") Somani co-leads the San Francisco office for Warburg Pincus, a global growth equity firm, where he focuses on investments in the Software and Payments sectors. He is a member of the Warburg Pincus Charitable Giving Board and helps oversee the firm's philanthropic efforts.  Prior to joining Warburg Pincus, Mr. Somani worked as an investment professional at Audax Group and as a Consultant at McKinsey & Company.
Mr. Somani received an S.B. and M.Eng. from the Massachusetts Institute of Technology (MIT) and an M.B.A. from Harvard Business School, where he was a Baker Scholar.
Mr. Somani lives in the San Francisco Bay Area, with his wife, Parul Somani, and their 2 daughters.
GEORGINA CHAPMAN
Georgina Chapman is co-founder and creative director of Marchesa. She, along with fellow designer and best friend, Keren Craig, founded Marchesa in 2004.
Georgina attended the Chelsea College of Art and Design before attending the Wimbledon College of Art for Costume and Design. After graduating in 2001, Georgina started her career as a costume designer. She was introduced to the fashion community after industry veteran Isabella Blow noticed a dress from Georgina's debut collection at an event in the U.K.
The company's namesake and muse is the noted eccentric European style icon, Marchesa Luisa Casati. With Casati's philosophy of fashion-meets-art in mind, combined with an expertise in design and draping, Georgina continues to create collections with both distinctive and iconic style, inspired by vintage silhouettes with a modern aesthetic. The Marchesa collection is currently available in more than 200 stores worldwide, including Bergdorf Goodman and Neiman Marcus in the United States, Harvey Nichols in Istanbul and Dubai and specialty boutiques throughout the world.
Marchesa has now grown into a full lifestyle brand including an eveningwear line, Marchesa Notte, a bridal line, handbag collection, and soon-to-be-available shoe line as well as collections of both fine jewelry and fashion jewelry.
Georgina has been featured in numerous top-tier publications, including Vogue (named to the January 2008 Best Dressed List), Vogue UK, Harper's Bazaar, Avenue, Vanity Fair, and Elle. In 2006, Marchesa was named one of the CFDA/Vogue Fashion Fund's top ten finalists, won the British fashion awards for Red Carpet Designer of the Year in 2007, and in 2008 won Britain's Best Business Award. In 2014 Georgina joined the CFDA's prestigious Board of Directors.
JULIE FOUDY
Julie Foudy is a former captain of the U.S. Women's National Team and one of the most accomplished female soccer players in the world. Since 2005 Julie has worked at ESPN covering a wide range of sports and initiatives. Julie is also a relentless philanthropist focusing on the power of sports and leadership for women and girls. She is a former president of the Women's Sports Foundation and won the 1997 FIFA Fair Play Award. She is the founder of the Julie Foudy Leadership Foundation and the Julie Foudy Sports and Leadership Academy, designed to empower young women in becoming leaders in their communities.
Foudy was a midfielder for the U.S. Women's National Team from 1987 through 2004, serving as the team's captain from 2000 through her retirement. In her 17-year national team tenure, the U.S. women won two FIFA Women's World Cup titles (1991, 1999), captured two Olympic gold medals (1996, 2004), and the silver medal in 2000 – en-route to becoming one of the most successful national soccer teams ever in the sport. After 272 international matches, Julie was inducted into the National Soccer Hall of Fame in 2007.
A four-time All-American at Stanford and the 1991 Soccer America Player of the Year, Foudy graduated in 1993 with a bachelor's degree in biology. She turned down admission into Stanford Medical School to pursue a career in sports.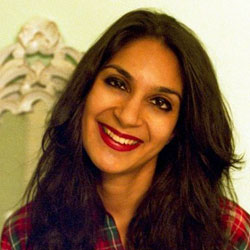 SOLEIL NATHWANI
Soleil Nathwani is a New York and Mumbai based journalist, film producer and entrepreneur.
Soleil has written features and Op-Ed pieces covering film, technology, fashion, music, art, culture and travel for publications across the globe. She has discovered artists and creative entrepreneurs as well as profiling icons in their field such as designers John Varvatos and Tory Burch, artist Scott Campbell, Pulitzer Prize winner Siddhartha Mukherjee, music mogul Russell Simmons, Grammy Award winner Natasha Khan aka Bat For Lashes, spiritual guide Deepak Chopra and Oscar winner Sir Ben Kingsley. As a Contributing Editor for Rolling Stone India she writes a column on popular culture and the intersection between story and technology.
Soleil's film projects have received wide acclaim. In addition to her current projects in development and post production, Soleil was the Director of Distribution on Difret which won the audience awards at Sundance and the Berlinale. She also ran distribution and partnerships for Girl Rising which continues to be seen as a standard bearer for social impact filmmaking. Both projects speak to her passion for building stronger communities through empowerment and education. Soleil is an Advisor to LA based film/tech start up, Gathr Films that has disrupted the distribution model by bringing films with a cause directly to communities that can affect change. She started her own production company, UpperCut Releasing, in 2014 to develop, produce and distribute episodic and feature length content focused on narrative features with a message, from emerging talent.
Soleil is the contributing editor of Mala of the Heart (2010) and Mala of Love (2016), the first two books in a series of compilations of spiritual poems seeking to propel readers towards positive change and compassion.
As a former VP at Goldman Sachs and hedge fund COO overseeing growth and strategy at two hedge funds in succession, Soleil has built numerous successful businesses in terms of people, assets and innovation.
Soleil has served on the New Wave Committee on the Film Society of Lincoln Center in New York for close to a decade, is the youngest member of the Maharashtra State Women's Council and is proud to be a Magic Bus Ambassador.
KEVIN NEGANDHI
Kevin Negandhi is currently an ESPN SportsCenter anchor, co-hosting the 9am-12pm ET edition alongside Hannah Storm. Negandhi joined ESPN in September 2006 as an anchor for ESPNEWS, and since then has become one of the most recognizable faces on SportsCenter.
Prior to ESPN, Negandhi worked as a sports director at WWSB-TV in Sarasota, Fla., from 2004-06. He also served as the station's sports anchor/reporter for three years (1999-2002). While working in Florida, he won three Associated Press awards — "Best Sports Cast" in 2004 and 2005 and "Best Breaking Sports News" in 2005. Prior to that, he was a sports director for KTVO-TV in Kirksville, Mo. (1998-99). Negandhi began his career as a college sports stringer at USA Today in 1995.
A native of Phoenixville, Pennsylvania, Negandhi graduated from Temple University in 1997 with a bachelor's degree in communications. While serving as sports editor at Temple University's Temple News newspaper he received a third-place award by Columbia School of Journalism for College Writers. Negandhi is only the second Indian-American to be a local sports anchor and the first to serve on a national sports network.
Negandhi currently resides in Connecticut.
RAJEEV RAM
Rajeev Ram is an Indo-American tennis professional on the ATP tour, best known as a doubles specialist. Rajeev has peaked on the ATP rankings at #78 as a singles player. In addition to his playing career, Rajeev is a dedicated philanthropist whose foundation, EntouRAJ for Kids, gives back to youth in his home community of Carmel, Indiana.
Rajeev's career highlights include winning the ATP World Tour singles title in 2009 and winning 7 ATP doubles titles from 9 finals. He has been ranked in the world's top 100 in singles and top 50 in doubles for the last 3 years. As a junior, Rajeev won 3 US national singles events and 7 US national doubles events.
As an amateur, Rajeev won the 2003 NCAA team title at the University of Illinois by helping his team to a perfect 32-0 record. Rajeev also won an NCAA doubles title alongside Brian Wilson. In 2002, Rajeev and Brian Baker reached the Wimbledon junior doubles finals. At Carmel (Indiana) High School, Rajeev earned All-State Honors and was state singles champion.
Rajeev began playing tennis at age 4, and admired the play of Boris Becker and Pete Sampras. His father Raghav is a botanist and mother Sushma is a scientific technician. He is coached by Bryan Smith.
Executive Director, Magic Bus USA
SARAH CURRID
Sarah Currid is a purpose driven leader with a passion for collaboration and creating sustainable change. She joins Magic Bus USA as the Executive Director with more than 10 years experience in the social impact space working most recently at Discovery Education where she led a team that was responsible for creating partnerships addressing education inequity, workforce development, and youth achievement. 
Throughout Sarah's career, she has worked in leadership and development roles for organizations that focus on empowering youth and young adults. More specifically she has worked at global nonprofits focused on education and the power of entrepreneurship including Enactus, the Network for Teaching Entrepreneurship (NFTE), and Samaschool. 
Sarah holds a B.A. in Psychology with a minor in French and Art from The College of New Jersey. She also holds a Certificate in Global Philanthropy from New York University and is a board member of JUSTGen, an initiative of JUST Capital.